Gentle readers,
The longest day of the year has passed and we are here once more in the heart of summer.  I bring you greetings from the edge of the continent.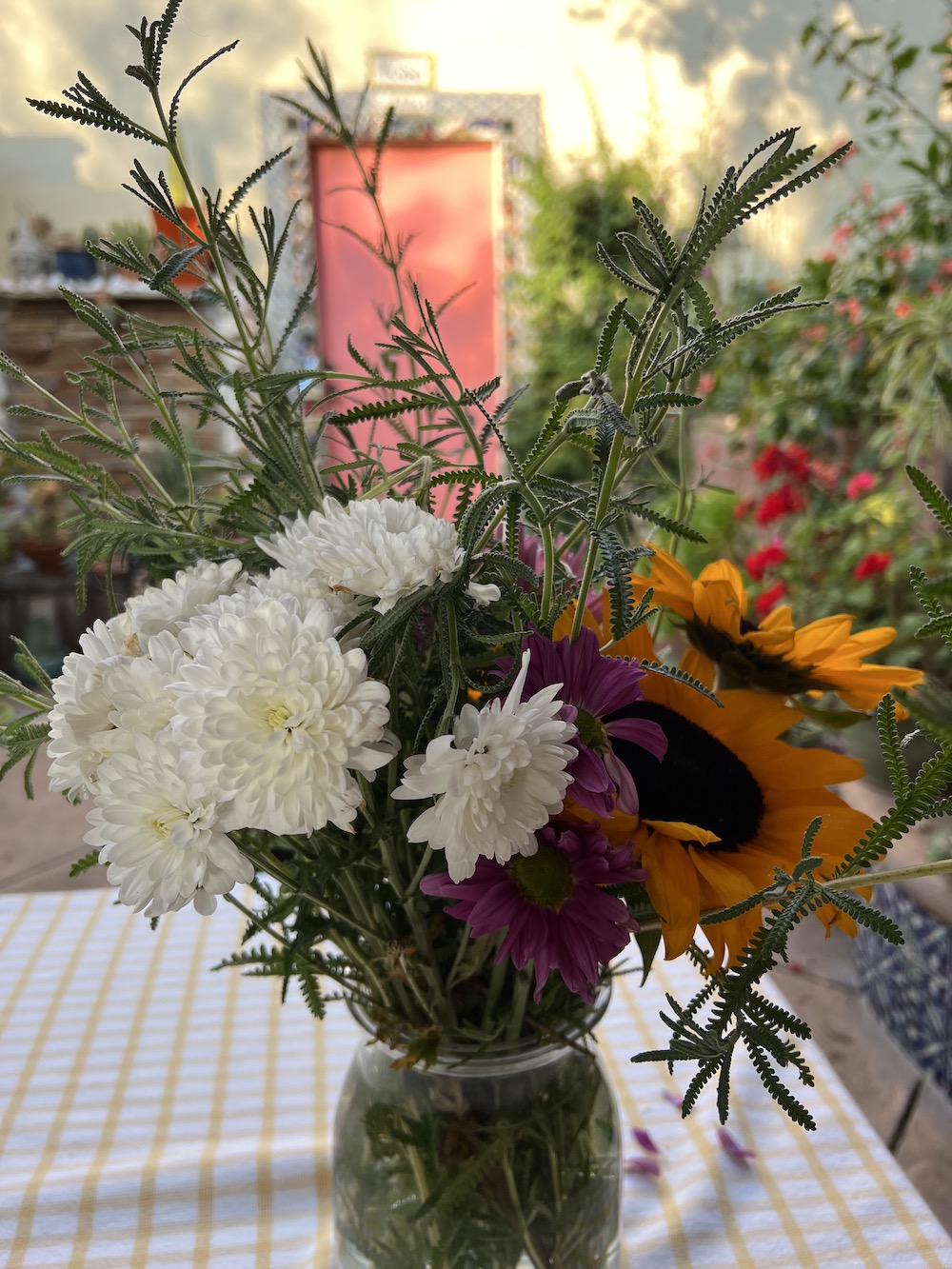 The sun reached its zenith in the northern hemisphere.  There it sat for a brief time directly over the Tropic of Cancer before it began its journey southward back towards the shortening of the days.
Here in the land of California, the heat arrived at long last, but it isn't blazing hot yet.  September brings our hottest days.  It's a very long time until then.  Or at least in my mind the days are moving at their very slowest.
I have willed each day to double in size so that I can do everything at a slower pace.  Yet oddly enough, the coffee that I bring out onto the porch in the early morn, still cools before I can finish it.  I am busy staring into the garden and puzzling out where I will conduct my 30 minutes of gardening chores.
When the sun is over halfway across the sky and settling in the west for the night, I'm back on the porch.  I have begun to reteach myself how to crochet.  Here I sit surrounded by geraniums and the oaks which keep guard over Moss Cottage.
Every summer I have a big giveaway on Craigslist.  Sending the things I don't need anymore out into the world to new owners.  Things like little canvases I never got around to painting, old art panels I made long ago, gardening supplies I don't use,  lots of sheets, a camera, old-school electronics, kitchen ware, decorative items, strange things you're sure no one will want, but they do.  The good citizens of Los Angeles come to collect things and some leave thank you notes, or send emails, or leave a bottle of Dr. Pepper, or a can of grass jelly drink.  Some say thank you as they pass the open kitchen window.  Some I never see, but I like that they're helping me pare down.
I went through hundreds of old photos and saved a few special ones.  Do you remember when we used to get photos printed at the  drugstore?  I always got duplicates.  I let go of old camcorder movies stored on VHS tapes.   Not all, but some.  Every year that passes I want less and less stuff – even memorabilia.  Whatever lives inside my head will have to be enough.   I ask myself over and over, what is essential?  What brings pleasure daily?  What do I love?  What do I want to be surrounded by?  The answer is obvious.
Kitschy crochet afghans!  Like this one I found on eBay for $35.  I'm no minimalist, but I want closets with empty shelves, drawers that aren't overflowing.  Little by little I'm reducing the drag.  I've still got a lot of weights to drop before I'm free floating.    A life's work.  A daily practice.
Look up there.  A photo I kept.  Me, gardening on my tiny plot outside of my South Pasadena apartment with my neighbor Jim and his daughter Anna in 1993 or so.  Some of these photos find new homes inside my journals.  My future self will be glad to see them.
This is a picture of a picture of my dearly beloved pop, taken 30 years ago.  I will paint him into my sketchbook again.  Put the picture in my journal.
The writing journals also get examined, but this year less carefully.  I've already gotten rid of nearly all of the journals from the 70's, and 80's, and quite a few from the 90's.  Dream journals where I used to meticulously record my dreams – gone.   Thoughts once captured on paper, set free.  I don't need them.  They are an invisible anchor that connect me to an old story.  This year though, I kept all of my remaining journals.  I go through them yearly and decide if it's time.
I got rid of a huge stash of fabric remnants.  I move things I no longer use out to the garage and if I go through the entire year without touching them, they become part of the great Craigslist giveaway.  Other people take such pleasure in the things I don't use.
These posts take days for me to complete.  I add some pictures.  Write a bit (on the porch of course).  Let everything settle.  Come back.  Keep going.  Until I click publish.  The unhurried pace of summer agrees with me.  This is me, the narrator of this post card returned on Day 3 to add some more…
Right now a cool wind blows over the porch.  I hear birds, branches swaying in the wind, traffic sounds down the hill,  a soft roaring from far away – maybe a leaf blower.  A screen door closes.  A small plane overhead.  Music sailing on the wind towards me.
I haven't gone anywhere this summer.  I'm right here at home.  I wake up early and head outside in my pajamas and tennis shoes.   Set the timer for 30 minutes.  This is gardening in the wild.   My property is about 10 times the size of my little house and I don't have a regular gardener, or automatic sprinklers. Usually I just let everything grow wild and do what it wants, but with the great rains of this past winter, things were rambling and spreading.  Taking over.
I could've called the gardener I use occasionally, but he lacks sensitivity to plants and wants to hack away at everything.  No, no, no.  I will do it myself.  I've been afraid of the work involved and overworking joints and tendons.  But what do you know?  No trips to the ER, I'm still upright with little to no joint pain.   A couple times a week I hit the timer on my wristwatch twice.  Tap tap. A 60 minute session is born.  I sit on the old green stool under a spider web under the smoke tree.  Birds visit the bird bath.  It's quiet and cool.  I'm in happy land.  Then up I go.  Stoop, bend, pull, dig, clip, spread.   Things get done.  Lots of things.
In this way, I cleared the entire front garden area one section at a time.  Pulled up lavender bushes that had gone woody, huge clumps of aeoniums, pruned the small trees and hibiscus, pulled out a ton of feather grass, filled the bin over and over and over.  I haven't done this much work in the garden since I planted everything in the first few years of moving here.   I was an energetic 39 year old.  Now I'm an almost retired, 60 year old with bad knees and funny ankles.
But here I am doing it for myself.  Just like Annie & Aretha.
I didn't think I could do any of this.  It was too hard, too big of a task.  Impossible!  But somehow I've been doing it.  Despite the peanut gallery inside my head.
Moss Cottage nears her 100th birthday.  Porch rails rot and need to be replaced.  Garage roofs need fixing.  Stucco needs patching.  I hired someone who's been working out so far.  He shows up when he says he will and does what he says he will.
In the garden there are new perennials.  I don't need to buy compost or bark from the store because I have 3 good sized oaks that are compost making factories.  I cart the leaves around and spread them out.  They are feet thick in places.  Coast live oaks need a healthy leaf drop underneath their canopies in order to stay healthy.  I pull out the grass that doesn't belong.  Everything takes time.  But I'm patient and I have time.
I'm outside nearly all day long.  Either in the front or in the back.  I like it out here.
All of these little plants will grow tall and eventually fill in the area.
I'm slowly working my way down the long front yard.  Jim fixed my hose so now I'm back in business with keeping things hydrated.  I don't mind watering everything by hand.
The succulent beds await!
See that tall silvery plant in front of the feather grass?  Some would call those weeds, but I like them and let some of them hang around.
I'm making some time for sketchbookery, but not as much as usual because of CROCHET!
Here are the old collage panels that a woman collected for a vintage dog photoshoot.  And someone else, named Ginger took the rest and shared them with her mom and emailed me to say how much she loves them.  That's awfully nice.
Dottie & Christy visited from Albuquerque for a few days!
Otto helped me paper some old drawers.  Everything's old around here.  And we're just fine with that.
My nice neighbor gave me this hanging glass vase.  I've been putting garden clippings in it.  I papered these old drawers one a night until they were all done.  I like the idea of breaking big jobs up into little tasks that can be done easily over time.
I've got a geranium propogation operation out back.
Well I guess that's all the news that's fit to print.  If you made it this far, you've earned a giant crocheted gold star.   I'll place it in a little floating lantern that will drift over towards your little house this evening.  Or tomorrow morning, depending on where in this big wide world you live.
Keep me posted on your own wild and precious life.  I like to know what you're doing, who you're seeing, what you're cooking, planting, reading, thinking, eating, drawing.  How you are BEing is this big old world.  I'll just be here tuning my frequencies, getting my ducks lined up, and transmitting the signals as they arrive.