I'm still here.  Staring out the window at night.  From bed I can see the shadows of trees made by moonlight on the garage wall.  There's a great horned owl in the neighbor's tree.  The moon is almost full.
I received an email from a child in my very first class of 1996.  She followed the trail of breadcrumbs I left years ago and somehow she found me.
"Miss Moss!!!!!  Omg! I can't believe I found you!"
"Journaling saved my life. Gave me a world to live in from my own imagination and perspective."
It was a beautiful correspondence.  Exactly the kind I wished I could've sent to a teacher from the 1970's who threw me a journaling life line.  One I'm still holding onto after all these years.
The porch is my refuge.  I shall not want.  She leadeth me beside the still waters.  She restoreth my soul.
Walking, reading, cloud spotting.  Just the usual business.
Facetime sketching with a friend.
Sister and I are planning a trip to the Cottswolds next June.  I've started a sketchbook that will be a container for all of my sheep, rabbits, cottages, landscapes, maps, and notes.  I'll take a similar Stillman & Birn sketchbook with me as a travel journal.  Like this one I took to Bavaria.
The one below is strictly a stay-home book.
Otto & Iris are going to need a live-in babysitter for 2 weeks.  If you know a solitary old lady who wants to go on a cat retreat let me know.
June weather in the city of angels is divine.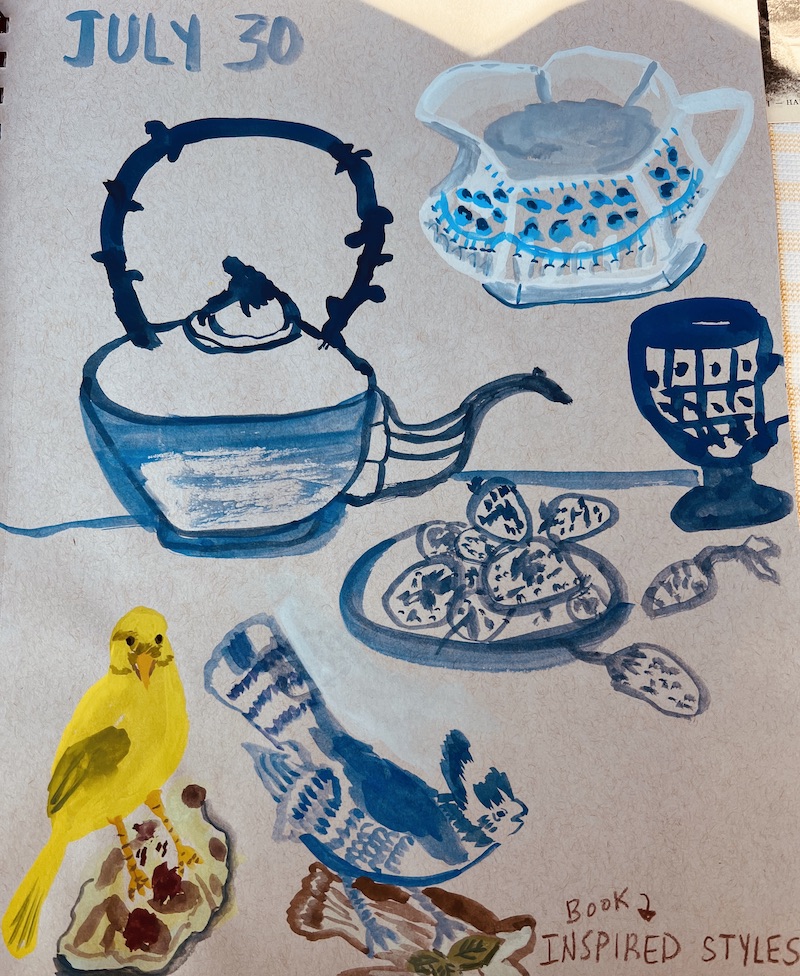 Today would have been my dear Pop's 91st birthday.  That's him below.   Gone 23 years.   He visits me regularly here at Moss Cottage.
My hood as seen from a drone photo (from a real estate ad) when a neighbors house a few doors down went up for sale.
I'm off to watch the moon and listen to Rebecca.  The audio version is spectacular!
I won't let nearly 3 months pass before my next dispatch.  Please post with news from your world.  May you be happy and healthy.  Comforted by the natural world.   Being brave witnesses to suffering in all its forms.  There is so much, but also so much wonder.