It's been a looooong time since I went hiking in the local mountains.  If you aren't from LA you might not know that there are a few LARGE national forests in our backyard.  Or that several long and lovely mountain ranges traverse the entire long length of our northern city boundry.  Or that in the winter lots of Angeleno's head up into these mountains with snowboards strapped to the roofs of their cars.  Snowboarding, skiing, winter wonderland cabins all a stone's throw from LA city proper.  True story.
 On Saturday I did exactly none of those things.  But I did go on a forested walkabout.  You know…as a show of good faith.  Got the old tuchus moving.  I felt sort of like a lumbering bear walking on her back legs for most of the hike.  My friend (who's a person) was WAY ahead of me.  She kept coming back to check and make sure I hadn't toppled over into a ravine.  I hadn't!
My slow pace didn't lessen my sense of exhileration at being under a canopy of blue, surrounded by all of the sweet smelling chapparal.  Long skirted ferns grew in the shade, a cold stream roared along down through the bottom of the canyon.  Black birds cawed back and forth.  Forested bliss.


I have stacks of books on hiking trails in the local mountains. Books from a former life.  Collected by a self that I haven't been in a long time.  A 30-something self that hiked, biked, walked, moved through the world with more ease.  Seems like getting older is less about meeting new selves than getting reaquainted with older selves that have gotten lost along the way.
Maybe you have a former self you're wanting to get back in contact with…?
The comments are open and we're all ears.
A former former self.  The original mary ann moss: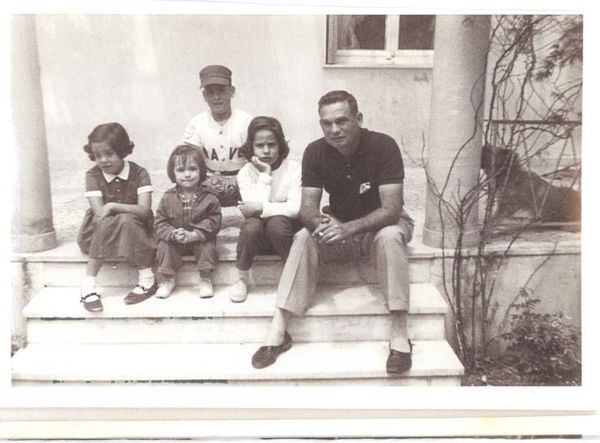 Who wandered off by herself (away from her Athens, Greece home) in 1964 and got lost.  I'm the little punk in the middle who's smiling.