I had a hankerin' for mendo county and the headlands so i got up this morning, packed, and hit the road.
when i left arcata it was a chilly & foggy 58 degrees.  within 90 minutes i was toodling south on hwy 101 and temps had reached 88.  i caught hwy 1 to the coast in leggett.
this is a very narrow, twisty road.  i would not advise you take this route if you're in an RV of any kind, or if you suffer from dizzy spells, car sickness, or anxiety of any kind.
if you're headed south you can just as easily take hwy 20 over to the coast from willits.  it has fewer hairpin turns and is less liable to affect you if you suffer from motion sickness.
of course if you're coming from the south, hwy 128 out of cloverdale is a dream.  there are a few tight curves, but nothing compared to the aforementioned roads.  the anderson valley is gorgeous, but you won't lack scenery on any of these routes.
from arcata to fort bragg is a little over 3 hours.
as i wound my way up and over the coastal range, fog swirled around the tops of the pointy trees and narrow shafts of sunlight found their way to the dark forest floor.  despite it's challenges, the leggett-to-the-coast route is pure fairytale enchantment.
you'd think i'd post some photos of said route, but these are pics from humboldt county, mostly around trinidad and luffenholtz.  if you drive this solo you won't be taking any pics either!
i got an iphone 8 plus before i left for bavaria and it's my main camera now.  the big nikon didn't go with me to europe this time.  the camera is new and improved on the 8, but it does funny things to the colors at times.  see that photo above of the window rock and you'll see what i mean.  that's unaltered, straight out of the camera, and considerably zoomed in.  the 8 zooms much better without losing as much clarity as the iphone 6.  overall i'm pleased with it.  convenience has won out over better glass.
when i finally got to the coast the temps had dropped nearly 30 degrees and a heavy fog blanket was draped over the coastal hills.
i pulled over and snapped a few pics.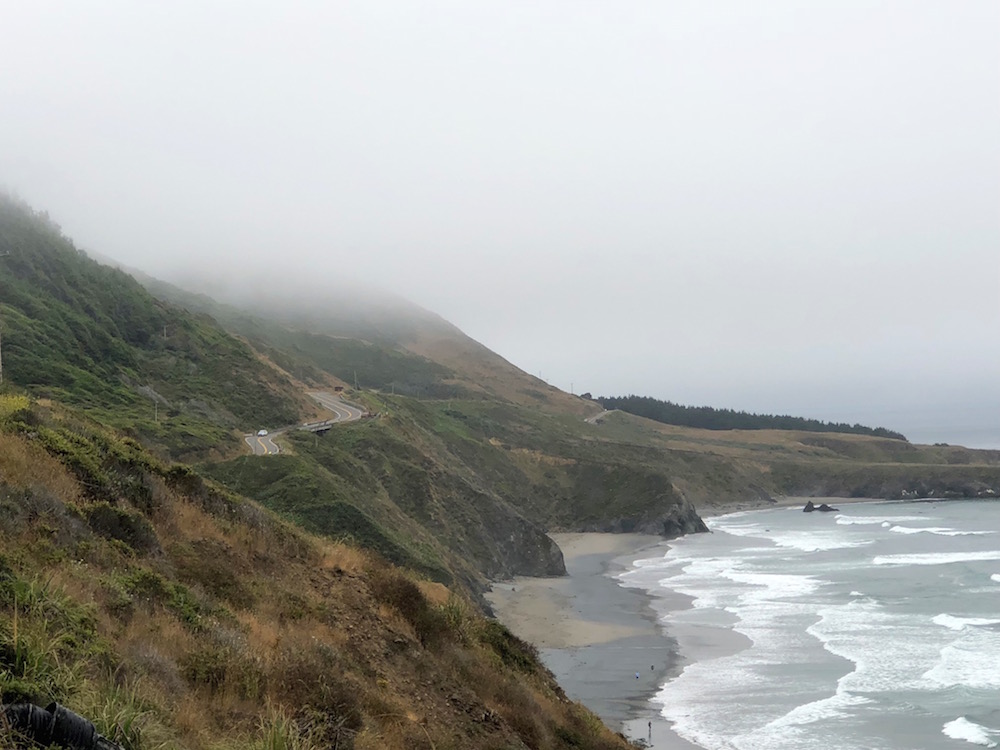 no airbnb this time, i booked a room online last night.  i went with a budget place off shoreline hwy in fort bragg.
imagine my surprise when i checked in and had this view (below) of a small cove from my balcony.
it's peaceful and quiet.  no highway noise at all, just the sound of the ocean.
as soon as i checked in i followed this path to a lovely little beach.
my room is spartan, but the bed is comfy and my view is outstanding.
earlier while i was waiting for check-in time i went for a walk on the mendocino headlands.
how nice to see so many summer wildflowers making an appearance.  i was last here in december when the trails sparkled with silver frost.  such a difference now.
there are showy grasses, lupines, wildflowers, poppies and drunken bees.  such splendor!
it's gotten dark while i've been typing this missive to you.  there is fog and a humming ocean just outside the window.  a book is calling me.
in a few short weeks i'll be back in the classroom preparing for a brand new year so this is my last travel hurrah of summer.  living it up while i can.
good night from the northern california coast.  sleep tight.