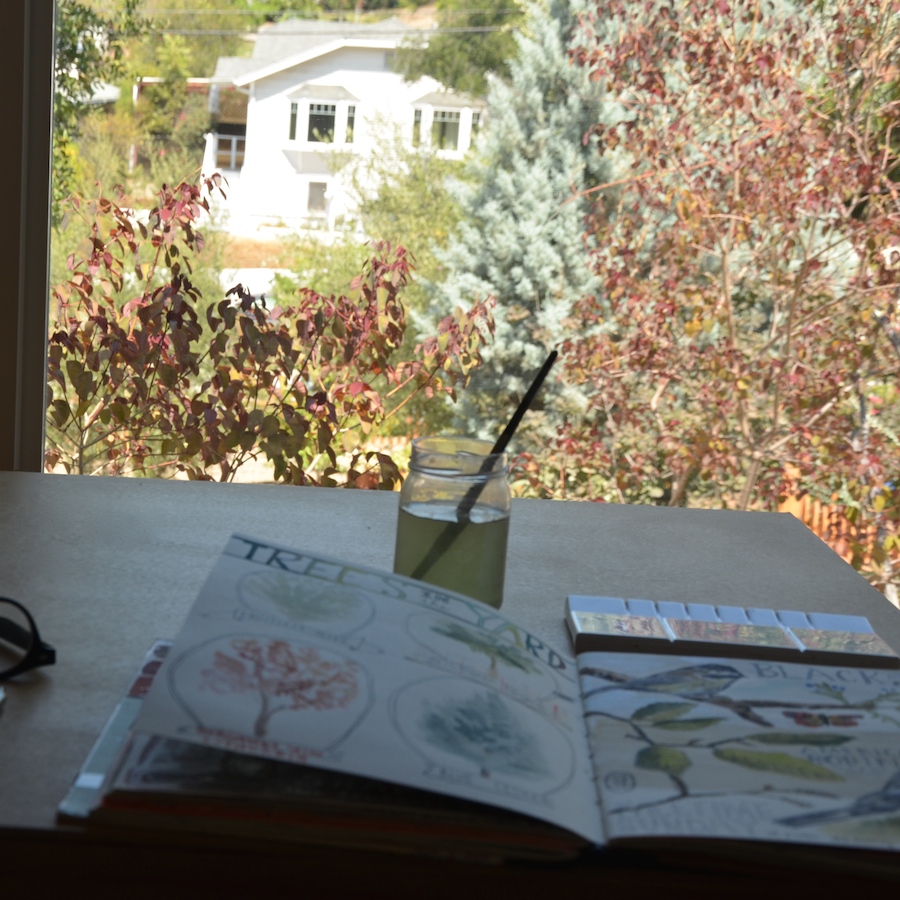 another art table with a different view!  i have 2 facing east, 1 south, 1 west, and now this one facing north.  the benefits of being a cat lady.  no one to get annoyed with my art messes.   2 happy furry cats who have new surfaces to on which to loll about.  win win.
last year sometime i started this page about trees in my yard, but never got around to actually putting the trees in their frames.  until today.
these 100 degree plus days are ripe for drawing & reading (!) in the extremely excellent & cold air conditioning of moss cottage.  i am happy to report after a full season of heating & cooling that the 2 mini-split a/c & heat units i had installed last fall do their jobs exceptionally well.
just in case you needed to know that.
meanwhile at the desk facing east, which has become my preferred surface for mess-making, a different visual journal is open for business.  calmly accepting my pen & brush marks.
i was looking at this cutting from the top while drawing but then switched to a side view which means the botanical illustrators of america won't be calling me anytime soon requesting a lion tale sketch for an upcoming brochure.  about drought tolerant plants.  in los angeles.  will they?
HEY.  thanks for the book recs.  i have half a dozen samples on my kindle ready for sampling.  by the time it's reading hour on the night porch i should have settled on a title.
that's all she wrote!
if something good is happening in your world do keep me informed.  i have become too Lay Zee to check my blog rolls instead i rely on you to notify moi so i can click over and look in your virtual window.