from door to door including a stop in cambria for a bbq tri tip sandwich and onion rings at the main street grill, it took me 8.5 hours to get home.  it takes 6 to get there going the mary ann moss route.  i'll lay it out for you in case you want to try it sometime.  134/2/210/5/198/101/68  no need to state the directions as it will be obvious.  my fav little hwy for the cut-across is 198.  blissfully scenic and lonely.
promise me if you come here you will only use a real paper map to navigate.  promise.
i prefer taking the north south route down hwy 1.  more visually stunning as you are going downhill most of the way, the views are better, and if you're the driver you're closer to the water.  so i take this route home from the monterey peninsula.  
68/1/101/226/118/210/2/134  yeah.  i hit a couple of little hwys for fun and i never ever ever take the 101 all the way into greater LA.  it's a real pain in the tuchus.  especially on a sunday.  i like to skirt around the LA basin and drop down from the north.  
never.  ever.  ever.  in all my 20 plus years of going down hwy 1 have i ever see the water this light-filled, this blue, this dramatic.

this stretch of coastline has some of the most inaccessible beaches.  the mountains plunge into the ocean and unless you can rappell, carve your own path down, or approach by water in a kayak, you'll be stuck at the top admiring the view.  i like that there are wild places where humans can't go.
i stood for a long time, inhaled the cool air, and let the wind blow around me.
eventually i climbed back in my chariot.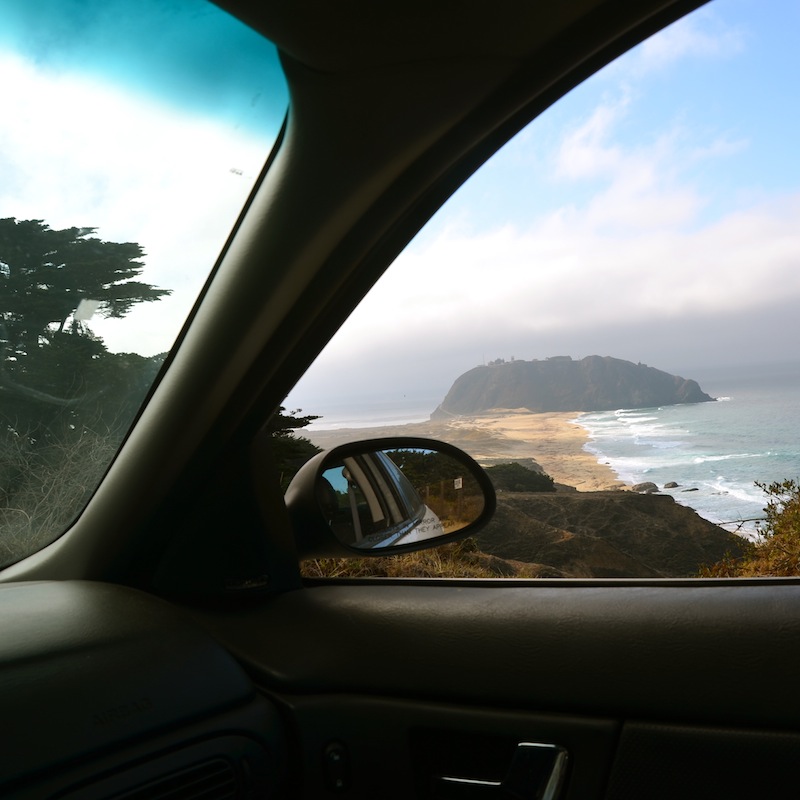 and saw around every curve a new tableau.
you say NO the water cannot be that blue.  yes.  it is. 


 real.  true.  blue.  

there is a kind of succulent clinging to the mountains – ice plant – it stabilizes the soil, but is terribly invasive, though beautiful from afar.
water mountains sea fog

a crushing combination.  that makes my heart swell with love for california.