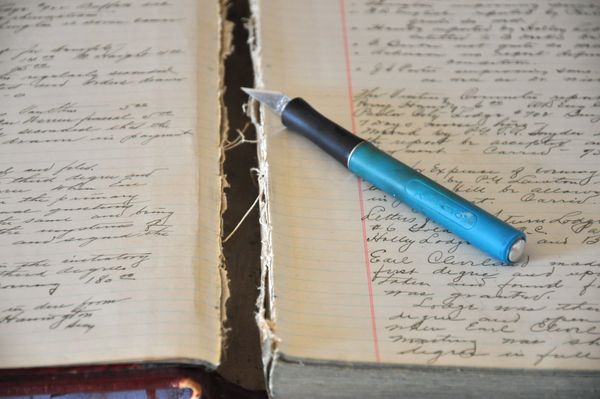 Operation Oddfellow continues!  First, I carefully cut out the old text block leaving those stunning marbled endpapers intact.
Look at the beautiful stitching I found all along the spine!   The craftsmanship of these early 20th century ledgers is a visual feast for my 21st century eyes.  All of that glorious stitching carefully concealed beneath a raised cord leather spine.  The spine I intend to preserve.
I'm fascinated by these old ledgers.  I wonder who made this particular one?  How long did it take?
About 10 years ago I made my sister a coptic-bound visual journal, her first.  I remember distinctly what a miserable experience that was.  I swore never to repeat it.  That sentiment changed when I found the tutorial for a rebound book.  I also watched THIS  video and worked along at my desk on my own text block.  What a difference good instruction makes!
Then I sewed up another practice text block using the coptic or chainstitch binding featured in THIS excellent tutorial.  Again, I worked at my desk while reading the sewing directions which were much better than any of the ones in my bookbinding books.  The stitching won't show when I insert my hot-press watercolor pages inside the Oddfellows ledger, but I'd still like it to look good.  To that end, I bought a spool of 4-ply bright red waxed linen and a proper bookbinding needle.  The needle I'm currently using is too sharp and tearing the spine of my text block as I continually enter and exit the holes. 
My practice text blocks are 9 inches long and about 2 inches wide.  I just folded up some scrap watercolor paper to make 5 tall skinny signatures.
While I wait for my red thread to arrive, I'm going to try a binding with sewn on cords or maybe some vintage embroidered trim I got years ago on Ebay.